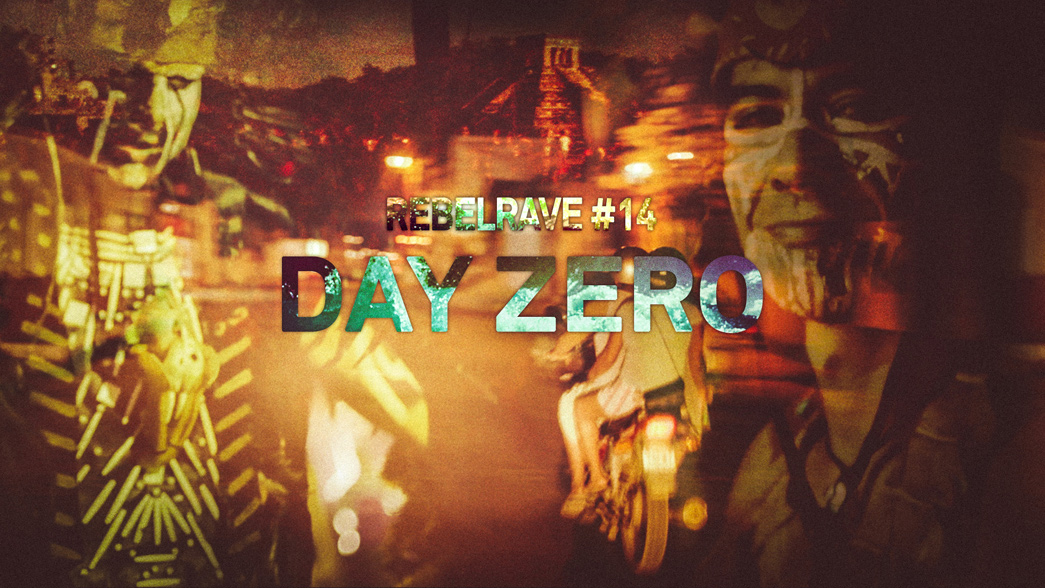 After a tumultuous and dramatic ending to 2013, my 2014 got off to a great start with a one-month trip to Mexico, joining the Crosstown Rebels on their latest Lazarus-infused party venture in the Mayan jungle. The first 10 days of the trip was dedicated to this REBELRAVE episode in the Tulum area dedicated to Day Zero, while the second half was spent in Mexico City for something exciting which you'll hear about in the next few months.
Like in every REBELRAVE episode, I have taken things up a notch this time, learning some new things (and making loads of mistakes), implementing new ideas that have inspired me from films, documentaries, art and music that I have absorbed over the past few months. An overwhelming amount of inspiration just keeps coming from all directions and REBELRAVE is becoming a platform for me to channel it through under my own interpretation, with my own limitations.
I always spend a lot of time working on the sound, but this episode in particular has received a lot more love than the others. Finding the right music for me is always so crucial to moving forward on an edit. Often entire days go by where I literally spend all day just browsing for music in my library or online without even touching the video edit. This process can go on for days until I find the right piece of music, everything grinding to a halt, frustration kicks in, then desperation, then depression and then I just wish I had never started REBELRAVE in the first place. Should've got myself a regular job. But then I go to get a haircut and the perfect tune just pops up on someone's ipod.
Once I have the audio, I just flick between Ableton and Final Cut, placing the song inside a score, often making edits of the track or mixing it with other songs or audio from the camera.
For the intro scene though, before reaching the desperation phase I mentioned above, I decided to just make it myself. I sung some harmonies and the rest of the melody just flowed in naturally to become a 90 sec tune that I could strip down into different variants, using it as a recurring theme that would change depending on the mood of the scene. I'd love to score a whole soundtrack with my own music one day, but handling both video and music at the same time is a bloody nightmare when you have a bearded deadline looming in the form of a Lazarus coming for you in the middle of the night through a pixellated skype call.
So many great memories I took from this experience, here's a few in no particular order:
–Mathew Jonson playing Marionette from the top of the pyramid, watching the whole spectacle from behind him was priceless. One of the biggest techno tunes of all time of course.
–One night I was walking back from the beach in Tulum through dense vegetation, when I started hearing this really cool catchy guitar riff somewhere in the distance through all the trees. Sounded like a recording, but for some reason I just kept going towards it. As I got closer I emerged in this little opening in the vegetation that housed a tiny hut buried under the trees, warm light pouring out the open door.. I peaked in and found this guy!
–Damian playing Lovers' Eyes to open his set as the sun came up. Mental. This is the first single from his upcoming album (which I've created all the artwork for).
–Midnight swimming after a 2 hour Temazcal session (my first). Well I technically didn't swim, as I was filming the others splashing around under the moonlit sky, but I did get my feet wet which is better than nothing. By this point it isn't even a frustrating topic for me anymore as I've grown used to documenting the pleasures of others while being stuck in the corner with a bunch of equipment strapped to me.
–TEED playing my song KRIX to open his set accompanied by a ceremony of firedancers. One of those moments when all you want are your buddies from back home to share the moment with, instead you just have to contain the excitement and get on with it and keep filming by yourself in the middle of random people around you. Still, it was pretty magical to see how crowd reacted to it. The moment didn't really fit into the episode, so I uploaded video of it here: WATCH IT
–Discovering Mole!
–Hearing German/Peruvian NU close the festival with his own "Tributo a los Apus" (which is not this version), a timeless piece of Andean music dedicated to the godly spirits of the mountains (Apus), a chant sung by the miners. I reached out to him a few weeks later asking if I could use it in the film and he sent it over. It was the perfect soundtrack to the final dream sequence.
"Gracias Apu majestuoso por protegernos de los peligros… Gracias Apu por dejarnos trabajar en nuestras minas, que nosotros los mineros, trabajamos por la familia, compartiendo nuestro esfuerzo con amor y alegría" / "Thank you majestic Apu for protecting us from danger. Thank you Apu for letting us work in our mines, us miners work for the family, sharing our efforts with love and happiness"
Couldn't have done this without Dean McColl, a multitalented chap from Sydney who I met at Burning Man a few years back. He moved to NYC last summer and we've been working together since (pics: MTV, Ida Engberg, Dekmantel, it's always studio-disco time). If he hadn't been so keen to help me think through the storyline of the film I'd probably still be editing right now.
Thanks also to Bryan Cosgrove and Lexi Lambros for helping with the initial organizing of the footage.
Great filming help from Gaby Izarra and Marco Meza on the day of the festival too.