For the past couple of years it has been my good fortune to have been in contact with Ali Demirel, the artist responsible for the mind bending visuals at Richie Hawtin's gigs, as well as Contakt and the latest Plastikman show. He'd seen some of my REBELRAVE episodes and asked me to collaborate with MINUS on a couple of occasions, but I had to turn these down because I couldn't fit them into my schedule, which was very frustrating for me as I had been a huge fan of all these guys and was flattered to have an opportunity to work with them!
Anyway at some point last year Ali asked me if I would be interested and free to spend New Year's Eve with Richie Hawtin on a three-day European tour to produce the third instalment of MINUS EMBED, which is an interesting project run by Rich's brother Matthew. When I read "private jet" in the email I just knew this was going to be a once in a lifetime opportunity, and immediately said YES!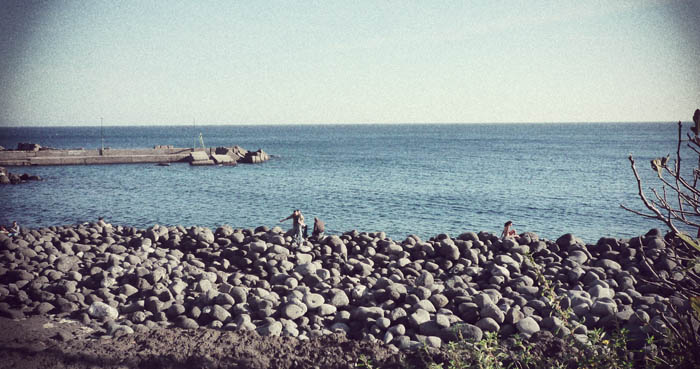 I was to begin the trip from Berlin (where I was by that time already on holiday with friends) and on the 31st I would take a plane from Berlin to Messina (in Sicily), where I'd hook up with Richie & Co. for dinner. He would play at the club at midnight for a couple of hours, then we'd take a private jet to Riccione (north of Italy) where he'd play at Cocoricó at 6AM. Following that we would take a plane to Madrid at midday, spend the afternoon relaxing, and then head over to the club where he would play at midnight. The next morning at 7 we'd catch a plane back to Berlin and we'd end the tour that night at Weekend Club.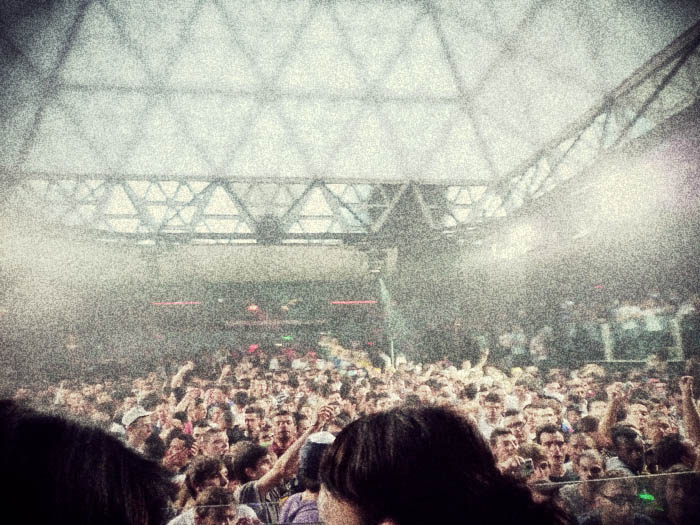 As huge as this was for me, I also received several heavy blows of bad luck, which transformed this trip into a nightmare of epic proportions. Things were going wrong right from the start when the camera rental place only gave me half of the kit, and from then on it was just one thing after another. But I'm going to skip the details and jump to the most crucial part, right at the half-way point of the tour when things went very bad indeed. It was 9AM, we were at Cocorico' in Riccione, everything had been non-stop since my flight from Berlin the previous morning, and none of us had slept yet; Rich was just about to finish playing to a disturbingly wild crowd (see the photo above), we were all imprisoned in a tiny booth, which itself was full of organizers, promoters and all of their friends and family. It was CHAOS. Then came the moment to leave for the airport, and packing away the kit for the second time that night was a messy process of shuffling around on the alcohol-drenched floor in between people's feet, often bumping into Nima who was also doing his best to pack Rich's kit away. It turned out that I left the club without noticing that the camera charger wasn't in my camera bag. Yes, the camera battery charger – gone. And my two batteries were almost dead. (Much later we came to the conclusion that it must have been taken by someone else by mistake)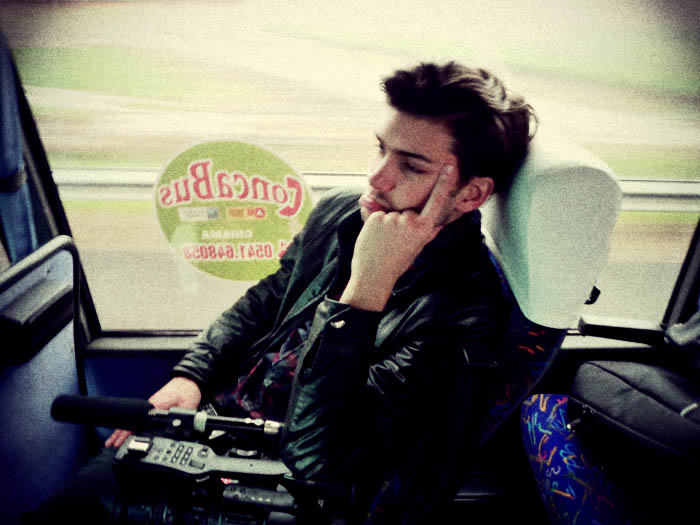 By the time I realized this (photo above) I was in the private bus to the airport with half the Minus crew sleeping around me (apart from Ali and Nima who were trying to help me out), and there was no way to go back to the club as we didn't have any spare time before catching the Madrid flight. I don't think many people can truly imagine what was going on inside my head during those moments, coming face to face with such a monumental disaster at 9AM after being awake all night working. I was in a terrible state, and confronting Rich in the airport to give him the news was probably one of the worst moments I can remember ever having. I suggested that I should leave the crew to go on without me while I return to Berlin, but these people are an extremely nice bunch and they did all they could to cheer me up (in vain) and to find other ways to film the rest of the trip, so I pulled myself together and resolve the situation in any way I could.
Landing in Madrid at 12 AM on the first day of 2010 I immediately got in touch with a friend who lives there (thank you Ivan!), and then met up with him on the other side of the city (cost me €80 in taxi fares!) to pick up his tiny little stills camera that he lent me for the rather dismal occasion. I went back to the hotel, passed out in a heavy tormented sleep for a couple of hours (my first sleep time since leaving Berlin) and then headed over to the arena to film the Minus showcase (Richie Hawtin, Gaiser, JPLS, Ambivalent, Fabrizio Maurizi). This was the biggest show and crowd of the tour so far. So there I was, on stage with some of the world's most idolised DJs, facing 5000 fans, filming with a little snap camera – awkward doesn't even begin to describe the feeling well enough.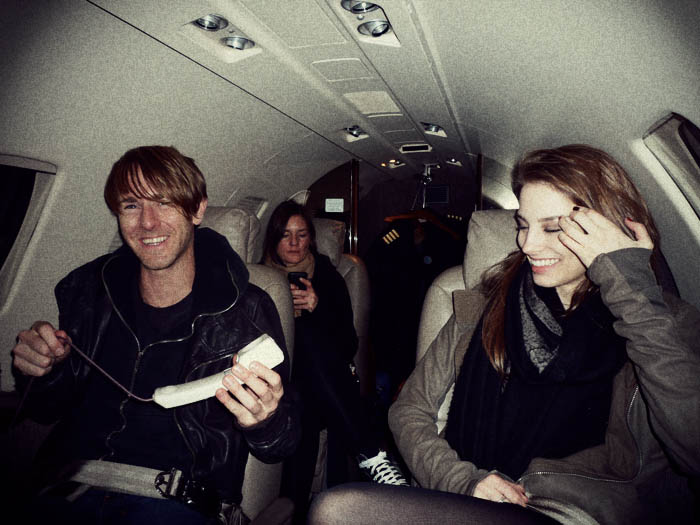 It has to be the highlight of the trip for me, which is a shame because there are many other moments that on the other hand were amazing: meeting Ali, traveling with the hilarious Nima, leaving a -10º Berlin which was covered in 1 foot of snow and landing in a 28º Sicily, spending the afternoon on the sea front eating clam spaghetti with one half of Booka Shade (who was also playing in Messina that night), meeting and dining with Richie and his parents and his brother Matthew, meeting Kevin (Ambivalent), taking a 6-seater jet to Riccione, meeting Jon Gaiser and Fabrizio Maurizi, bumping into Tiga (he was on our same flight to Madrid), then meeting Steve Bug on the flight back to Berlin (he was to play at Weekend with Richie that night), and then getting to enjoy the amazing party at Weekend, finally re-united with my best friend and my girlfriend, feeling like I had been away for years.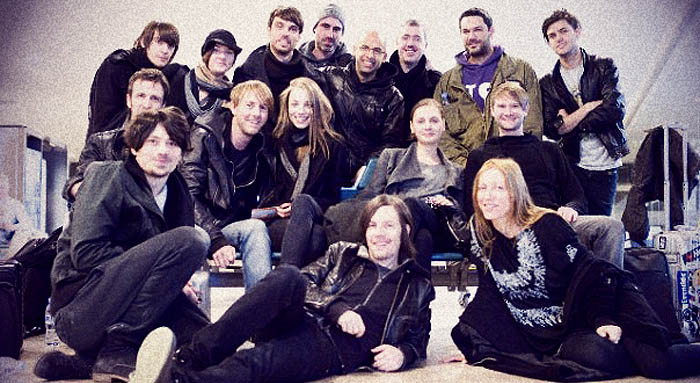 I wanted to deliver the final product to them before the end of the month, as I knew that from February onwards I was going to be busy on the RebelRave US tour. This was when I was moving to New York, so three days after arriving in my new hometown I got mugged (they hit me in the face with something that felt like a baseball bat) and I got sent to hospital with multiple fractures on the left side of my face. This is why this video filmed at NYE has just now been released at the end of August!
On the editing side I had a bit of a task at hand as I had to deal with different types of footage and merge it all into a single video. In Messina and Riccione I'd used a Sony EX3, in Madrid a little crappy stills camera, from the trip to Madrid to Berlin I used my little Harinezumi (an amazing little digital super8-emulator camera), and in Berlin I used Minus' HD camera. So this explains why there are all these different looks and styles throughout the sections of the video.
Leaving Berlin, still disturbed by the experience in Riccione, I wanted to push my own boundaries to deliver something exceptional, however on the creative side of things this film didn't quite come up to my expectations given the difficult circumstances. But I think I have managed to salvage a project that seemed doomed, and in that sense I'm very happy with the result, and feel I've really achieved something!
—
Update 5 September 2010
I'm getting lots of people asking me about the music used, so here is the tracklist:
00:00 – 00:15 Mine…
00:20 – 01:15 False – Forgetting
03:06 – 03:55 Plastikman – Risk Assessment
03:55 – 05:15 Speedy J – Minimal (John Acquaviva – Olivier Giacomotto rmx)
05:45 – 05:55 False – Halflife
06:50 – 08:15 JPLS – Spooker
11:50 – 12:33 Bryan Zentz – Shadowtalk
12:33 – 13:50 The Selph – Designer Beaver (Uto Karem rmx)
13:55 – 15:00 JPLS – Fold
15:55 – 16:35 Gaiser – Backyard